Well, the season's over, but the Cubs had a winning record and were in playoff contention right up to the final weekend. And I've had a great time watching. Thanks, Dusty and everybody, for a fun summer.
The Reds game I saw on Wednesday was really our last hope. And we blew it -- but just barely. In the ninth inning we were up by two points, and the Reds already had two outs and two strikes on their batter. All LaTroy Hawkins had to do was throw it past him one more time... But instead he threw it over the plate and watched it sail back over his head, out of the park, for a two-run homerun. We stayed alive into a twelfth inning, but another two-run homer ended the game, and effectively, the Cubs' season.
And yet, it was still a great day to be at the ball park. The excitement was palpable. The weather was gorgeous. Wrigley Field is a stunning setting. The game was full of thrills, and of sentiment. The stands were full of the smell of beer and hot dogs, and of cotton candy and peanut shells and joy, at least the beginning. And we've got such a talented core team, and such a brilliant manager in Dusty Baker, that you just know
next year
we're going all the way.
That's right, I'm an archetypical Cubs fan now. We'll be buying some tickets in April, the season of hope.
These are pictures-of-pictures, and I apologize for the quality, but hopefully they give some sense of the excitement.
Fans enjoy their Ron Santo autographed baseball, one of five hundred given away randomly. Santo, the former Cub third baseman who now calls games with Pat Hughs for WGN radio, has become even more of a local hero since a movie was made about him (directed by his son) and his struggles with diabetes, which cost him both legs. He sang "take me out to the ballgame" during the seventh-inning stretch, waving to the crowd from the broadcast booth.
Moises Alou's distinctive knock-knee'd batting stance.
Sammy Sosa's almost-grand-slam -- three runners go, the pitcher watches it sail, Sammy hops, and fists pump. But it was foul by a foot.
Southpaw Glendon Rusch (the figure walking away at left) with the bases loaded against him, after pitching a top quality game, and a top quality season as the Cubs sixth starter... And getting this game's only Cub home run.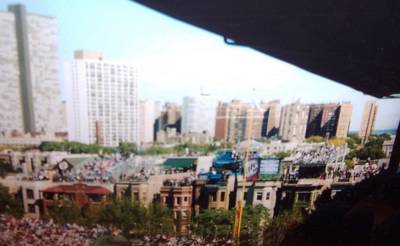 View from the stands,with the lake at one edge, and the apartment buildings across the street topped with roof-top bleachers.
Harry Caray, the former voice of the Cubs, looms over the crowd at the corner of Addison and Sheffield. Wrigleyville on gameday, after a loss: forty thousand disappointed people.